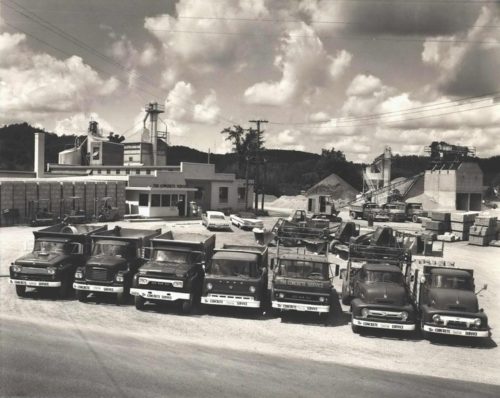 The Story of the Concrete Service is the story of founder Ralph Samuelson. Though we are certainly proud of our current incarnation, the pride we have for our innovative beginnings with Ralph is paramount.
When Ralph started a gravel and concrete block company in 1932, he entered himself into a block manufacturing "arms race" of sorts that was occurring during that era. Ralph quickly became obsessed with invention and efficiency. A Pit and Quarry magazine editor wrote in 1946, "Seldom (does one) encounter an operation in which original and practical ideas abound." He continues, "All stem from the inventive genius of Ralph Samuelson." This writer's words were not some overstating flattery spun to aggrandize his article. Ralph's mechanical ingenuity led him to design and sell some of his own original block plants despite the presence of the largest block plant manufacturer in the world just up the road in Alpena. In a 1953 article, William Avery wrote about Ralph's design, "A feature of the block plant is a continuous mixer designed and built by Mr. Samuelson which serves both to mix the concrete and elevate it to the feed hopper over the block machine."
The company remained Ralph's creation until the gradual handover to his two sons during the 1960's, 70's and 80's. Today, the sons are still involved, but are in the process of passing the reigns off to a third generation of family. Still primarily a manufacturing company, The Concrete Service Inc. has also been diversifying in recent years. It now hosts this area's greatest selection of natural stone, pavers, brick, and landscape products. But it's still loyal to its manufacturing roots, and has been recently adding to its menu of blocks. Amongst them are retaining wall blocks and pavers that were aptly named "Old Town Pavers and Wallstones" to honor the longtime bond with downtown Traverse City.
A showroom is featured at 3743 West Front Street, and is directly across the street from our plant location. One of Ralph's originally designed block plants stands mounted in front as testament and reminder to the company's pioneering roots.