When it comes to hardscaping, there's a fine line between an amateur DIY project and a professional masterpiece. While your neighbor may take pride in their lopsided brick patio, you know that achieving backyard nirvana requires an expert touch. In this blog post, we'll explore the art of hardscaping, discuss the benefits of hiring a professional, and share valuable resources to help you create a stunning outdoor space that even the Joneses will envy.
The Art of Hardscaping
Hardscaping, a term that sounds like something out of a Transformers movie, refers to the non-living elements in your landscaping. Think patios, walkways, retaining walls, and fire pits. The true art of hardscaping lies in designing these elements to enhance your outdoor space while keeping functionality and aesthetics in mind.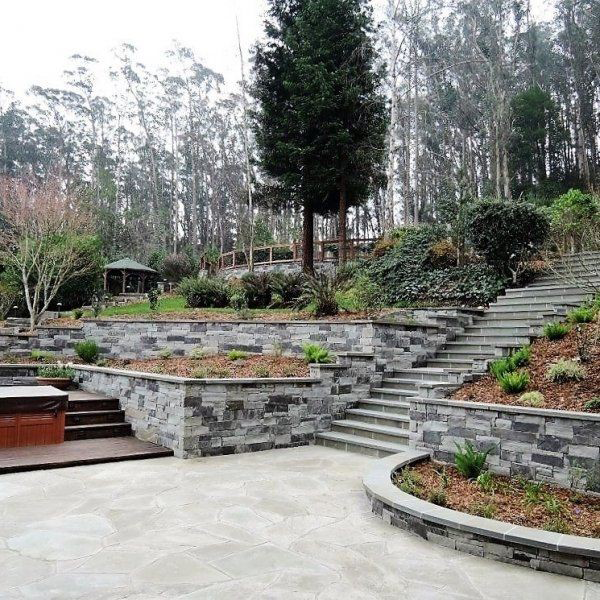 Why Go Pro?
Sure, you could try your hand at hardscaping and hope for the best, but let's face it, you're no Michelangelo. Here's why hiring a professional can make all the difference:
Expertise: Hardscaping professionals have the experience and know-how to create a cohesive design that complements your existing landscape. They're well-versed in materials, installation techniques, and design principles, ensuring your project will stand the test of time (and Mother Nature).
Efficiency: While you may be tempted to spend weekends toiling away in your backyard, a professional team can complete your hardscaping project in a fraction of the time. Plus, you can kick back with a cold beverage and watch the transformation unfold.
Increased Property Value: A well-executed hardscape not only adds curb appeal but can also increase your property's value. After all, who wouldn't want a picturesque patio or a charming garden path?
Resource Spotlight: The Concrete Service
If you're ready to take your hardscaping game to the next level, look no further than The Concrete Service. With over 90 years of experience, this family-owned business offers a range of services, from decorative concrete to stone veneer and many other products.
Their website is a treasure trove of resources, including an extensive photo gallery to inspire your inner landscape artist. You can also find a wealth of information in their Learning Center, covering topics like concrete maintenance, and project planning. There is even a handy concrete calculator to estimate your needs.
In the world of hardscaping, a professional touch can make all the difference between a backyard eyesore and a stunning outdoor oasis. Enlisting the help of experts like The Concrete Service, you'll not only save time & effort but also enjoy a beautiful, functional space that will have your neighbors peeking over the fence with envy. Now go forth and create your hardscape masterpiece – just remember to invite us to the backyard barbecue when it's done!