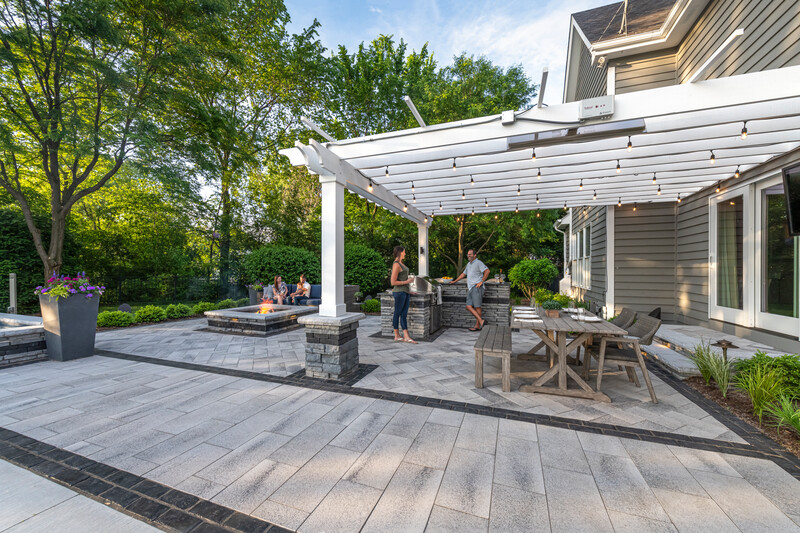 Many homeowners enjoy spending time in their backyard space and thoroughly enjoy it during the spring, summer and fall months. A professionally designed outdoor patio space can be a great feature for entertaining, comfortably gathering and being able to enjoy being outside even when it's raining. Outdoor features in a space such as this are becoming more popular and fun. Homeowners are beginning to see their backyards as many staycations, with swimming areas, outdoor dining and places to watch the big game.

Top patio trends include:

Outdoor fire pits and fireplaces- This feature allows the family to enjoy the outdoors you're around, maybe even in the winter. Outdoor fire pits create a warm, comfortable atmosphere and a cozy gathering spot for entertaining designed with beautiful rocks, pavers, natural stone.
Outdoor kitchens- an outdoor kitchen raises your entertaining game and allows you to use your patio year-round. Your outdoor kitchen can be as simple as a barbecue grill and countertop area or a state-of-the-art large appliance space. Discuss your ideas with a professional landscape designer to create your plan.

Nature patios- your own little garden area that brings nature right to your back door is a dream that can be easily achieved. Beautiful landscapes, flowering gardens and outdoor ponds create a relaxing and tranquil place to enjoy the outdoors. Drink your morning coffee, host an intimate lunch and enjoy an evening glass of wine and a quiet setting filled with the scent of flowers and privacy of well-placed greenery.
The Concrete Service has an in-house design team to plan and create these areas for your home. Contact The Concrete Service to get your project started. The Concrete Service… The Designer's Choice and the choice for a designer!